Wanting to bring the leasing service closer to a larger number of clients, we offer financing of commercial vehicles of all categories, light and heavy trucks, semitrailers and buses.
Financial leasing of commercial vehicles is a modern model of financing whose basic idea is based on the use and management of vehicles during the term of the Lease Agreement. We finance all kinds of commercial vehicles from authorised dealers, regardless of the brand and type. We can offer you financing of one or several vehicles, depending on your needs.
In order to create an optimum offer tailored to your needs and possibilities, send us an offer of the supplier or opt for a special offer in cooperation with our partners, and we will send you the best possible solution as soon as possible.
Flexibility of leasing
Transport companies, freight forwarders or other companies whose goal is the modernisation of car pool will be offered an adjustable repayment method according to their business situation, with the possibility of financing VAT through instalments or until the refund.
What can be a leasing subject?
Light delivery vehicles
Delivery vehicles
Trucks
Truck tractors
Trailers
Semitrailers
Buses
Special purpose vehicles
What are the advantages of financing a vehicle through leasing?
Favourable financing terms
Simple approval procedure without redundant documentation
Flexibility of application approval
Minimum initial investment
The leasing subject is financed from the income generated through use - it repays itself
Provides additional profit to you because you can direct your capital to other purposes
Possibility of VAT financing in instalments or until refund
Favourable premium rates for comprehensive vehicle insurance during the terms of the agreement
You have opted for commercial vehicle leasing. As experts in the field of financing, we will do our best to make your wishes come true.


Contact us and we will make you a tailor-made offer.
 
Insurance and standard security instruments
Insurance of the leasing subject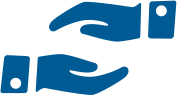 The leasing subject must be insured by an adequate comprehensive vehicle insurance policy during the term of the Lease Agreement.


Security instruments are defined for each agreement individually, based on the client's financial standing and the specificities of the transaction.
Send us an inquiry!
Please contact us and put your trust in us.
Our colleagues will contact you as soon as possible.